Important dates & more
We'll share information on upcoming important dates as they come up. In the meantime, check out the Student Life calendar and Facebook page!
Quick links
Semester screening & documents
Spring 2022 semester beginning Jan. 18, 2022
Classes begin January 18, 2022. Move-in dates will be scheduled to accommodate public health requirements and will be communicated separately.
The spring semester concludes on May 11, 2022 with final examinations to follow. Residents must move out 24 hours after their last final exam unless participating in the college commencement ceremonies. In this case, residents approved to remain in the Hillside Suites for commencement must move out immediately following the ceremony. More details will be released as commencement plans become finalized.
NOTE: These dates are based on the best information available at this time and are subject to change based on public health conditions. Any alterations to this calendar will be communicated with students as soon as possible.
Students will be permitted to move on to campus starting on Sunday, January 16, 2022. All residents will need to ensure that they submit the necessary vaccination and testing documentation prior to their arrival to campus.
Students who need to return to campus prior to Sunday, January 16, 2022 must receive approval from the director of Residence Life. Students who are participating in an active athletic team or who are an international student must coordinate with the Office of Residence Life and their area coordinator for early entry. Global Learning students should coordinate with Hannah Pruch. Athletic students should coordinate with George Sisson.
Any student arriving to campus early without prior authorization and/or necessary documentation requirements will not be allowed to move in to the Hillside Suites.
Vaccinated student: Students who are fully vaccinated may arrive to campus and will not need to quarantine. All students moving on to campus will need to provide:
Proof of COVID-19 immunization to the campus Health Center prior to arriving to campus. Vaccination documentation can be submitted through the Immunization Requirements webpage. Students who lived on campus for the fall 2021 semester do not need to resubmit this information, but may provide evidence of a COVID-19 booster dose if desired.
Results from a COVID-19 test taken within five (5) days of arrival to campus. These results must be communicated to the campus Health Center (HealthCenter@mail.sunyjcc.edu) and the Office of Residence Life (ResidenceLife@mail.sunyjcc.edu) prior to their arrival to campus.
Partially vaccinated (or) exempt student (with approved exemption from the Review Committee): Students who arrive to campus that either 1) are partially vaccinated, with documentation submitted to the campus Health Center; or 2) have an approved exemption from the Campus Health Center, will need to provide:
Recovery from COVID-19: Students who have tested positive within three (3) months of arriving on campus will need to provide satisfactory documentation of recovery to the campus Health Center. Students in recovery will not be required to test for COVID-19 within the three months of recovery and will not be required to quarantine upon arrival.
Each student is assigned a mailbox in their residence hall. Mail is delivered to the halls once each day, Monday through Friday, excluding holidays and college vacation periods. When a package is received, a resident assistant (RA) records the package in the RA office. Students are notified to sign and pick up their package in the RA's office.
Outgoing postage paid letters may be left in the RA office for delivery. Since the campus mail service is not an official branch of the United States Post Office, some outgoing mail services (e.g., packages, registered mail, overseas parcels, and money orders) are not offered. The Campus Store, located in the Hamilton Collegiate Center, sells postage stamps.
NOTE: Overnight packages will be delayed arriving at residence halls. Due to this delay, residents are strongly encouraged not to have packages shipped overnight.
Addresses
Hillside Suites North Address
Student's Name
Suite # and letter (306B) Hillside Suites North
P.O. Box 1179
Jamestown, NY 14702-1179

Hillside Suites South Address
Student's Name
Suite # and letter (306B) Hillside Suites South
P.O. Box 1199
Jamestown, NY 14702-1199

Hillside Suites West Address
Student's Name
Suite # and letter (306B) Hillside Suites West
P.O. Box 1159
Jamestown, NY 14702-1159

If you wish to mail a package to a resident and need a physical address, please use the following:

Student's Name
Suite # and Letter Hillside Suites (specify building)
525 Falconer Street
Jamestown, NY 14701
Mailbox keys must be returned to a resident director (RD) when moving out of the residence halls. Lost, stolen, or unreturned mailbox keys will result in a $50 charge to the resident's bill. If you wish to have your mail forwarded, update your address in Banner prior to moving out.
All JCC residential students are required to register their vehicle(s) each academic year. If a resident acquires a new/different car during the current academic year, a new registration form should be submitted. Vehicle registrations are being done in an effort to provide better monitoring of our campus parking spaces and to assure compliance with parking regulations (ex. parking in handicap spaces without proper tagging, blocking fire lanes, not abiding by winter parking regulations).
There is no charge for the vehicle registration, and you may complete more than one registration if you drive multiple vehicles.
Winter alternate parking: Hillside Suites have an alternate parking schedule on weekends for snow removal during the winter.
Move your vehicle to the Curtis Street lot closest to the tennis courts during snow removal times. Cars that are not moved may be ticketed or towed at the owner's expense.
Hillside Suites North lot: unavailable Saturdays, midnight-noon (can move back after 1 p.m.)
Hillside Suites South lot: unavailable Fridays, 1-6 p.m. (can move back after 6 p.m.)
Hillside Suites West lot: unavailable Sundays, midnight-noon (can move back after 1 p.m.)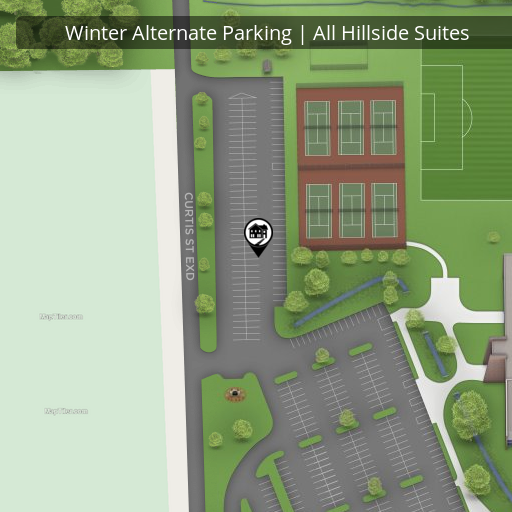 JCC's residence halls are equipped with electronic door access at the front entrance, the only entrance that can be used to gain access to any of the Hillside Suites buildings. Only residents can use their JCC ID card to gain access to the building. Visitors must use the phone located inside the foyer to call residents they wish to visit to open the door and escort them while in the building. 
Residence halls employ night desk attendants. Hall lobbies have a camera that is monitored throughout the day by several staff members, and each residence hall has one live-in resident director and three resident assistants. Maintenance and cleaning staff also assist in the operation of the building throughout the day.
Our Residence Life staff works closely with local EMS and police departments to provide the most efficient emergency care possible for our residents. Local police departments use our facilities for drills to become better acquainted with our residence suites facilities.
Residence Life offers free transportation through TEAM Services to Lakewood and downtown Jamestown. Stops include Walmart, Wegmans, Chautauqua Mall, Aldi's, North West Arena, and Reg Lenna Civic Center, with many other options within walking distance of the main stops.

You are allowed a few small packages/bags on your trip, as large items may not be able to be transported. Residents who miss scheduled pickup times are responsible for their own transportation back to campus.
Dates are listed on the digital sign boards in each lobby.
To assist with reducing possible exposure of COVID-19 to the Hillside Suites and college community, visitation restrictions will be in place.
At this time, no visitors are allowed to enter the Hillside Suites at any time other than to assist with the initial move-in (following a health screening). This includes, but is not limited to: friends, family, and non-residential JCC students.
Do I need to complete a daily health screening? All students are required to take a daily health survey to help JCC's health center monitor anyone who might develop symptoms that could be related to COVID-19.
Do I have to wear a face mask in the Hillside Suites? If you are fully vaccinated and provide proof of vaccination, you do not need to wear a mask. If you are partially vaccinated or unvaccinated, you must continue to wear a mask in indoor and outdoor areas (if you are unable to maintain 6 foot distancing outdoors) and public transportation.
Will the Jayhawk Cafe still be open for meals? On-campus dining will be modified to include pre-packaged hot meals, grab'n go items, and microwavable frozen or fresh meals. The Jayhawk Cafe's seating capacity will be reduced to comply with social distancing protocols.
Will I be able to meet with my residence director (RD) or the director of Residence Life throughout the semester? The Residence Life staff will be readily available to assist students throughout the semester. To assist with social distancing efforts, staff will determine the most appropriate format to meet with a student. Many meetings or inquiries will be conducted by phone, Zoom, or other similar formats.
Will the Hillside Suites have reduced occupancy? The Residence Life program has reduced its overall occupancy. All five-person suites have been reduced by eliminating either a single bedroom or a double bedroom. The Hillside Suites allow for students to have private bedrooms in apartment-style living quarters, with up to four individuals assigned to each suite. Each suite will be considered a 'family unit,' according to CDC guidelines.
Will there still be activities and programming? The Residence Life and Campus Life offices develop a calendar of events. Activities and campus involvement will be dependent on health and safety guidelines.
Will I be able to switch rooms during the semester? At this time, once students have moved on to campus, room assignments will be final. Any exceptions will be determined by the director of Residence Life or their designee.