Meet the Residence Life staff at JCC
Jamestown Community College's Residence Life staff create a warm, positive community in the residence halls. The Residence Life director works with residence directors and student resident assistants to provide a supportive environment and fun programming. You can go to them with any ideas, questions, or concerns.
Director of Residence Life
Tyler Silagyi, Director of Residence Life
Welcome to Residence Life and the Hillside Suites! My name is Tyler Silagyi, and along with being the director of Residence Life, I am also a JCC alumnus and previous residence director here at the college. Through this position, I hope to provide our residents with an experience that helps them grow into mature young adults ready to take on their next steps in life.
In Residence Life, we firmly believe that the more connected you are, the more successful you will become! It is my hope that by choosing to live on-campus, student residents will be able to make long-lasting and valuable connections with each other, faculty, staff, and the Jamestown community. Everyone is capable of success, which relies on the choices that each of us make. This is the time to define who you are as a person and who you wish to become. Choose to be great at everything you do and you will find continuous success with every new adventure.
Hillside Suites North
Karen Campbell, Residence Director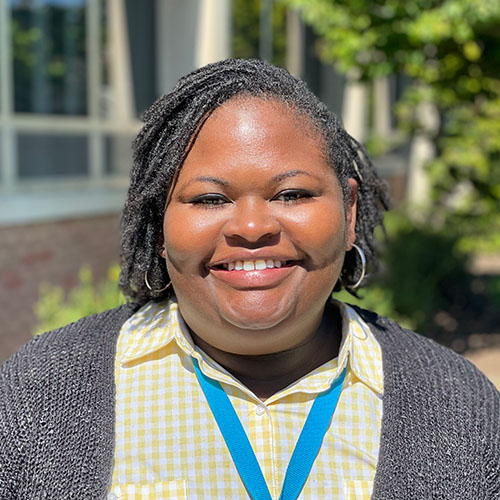 Hi, my name is Karen Campbell, and I am the resident director of Hillside Suites North. I am a graduate of North Carolina Agricultural and Technical State University. I was born and raised in Charlotte, NC, so get ready for some southern charm. I look forward to working with and getting to know the students at JCC. I want to not only help you become great students, but also adults who can make it once they leave this institution of higher learning.
Josh Bowmer, Resident Assistant
My name is Josh Bowmer and I am a resident assistant in Hillside Suites North. I am from a town called Kiama, about two hours south of Sydney, Australia. I am a sophomore at JCC and a guard on the men's basketball team. I am majoring in Business Administration and plan on one day running my own business. I hope that within my role as an RA I can help students feel happy and comfortable during their time at JCC.
Mickale Gilliam, Resident Assistant
Hello, my name is Mickale Gilliam and I am the resident assistant in Hillside Suites North. I am a sophomore and my major is Studio Arts. I have worked in several positions on campus, including student ambassador, peer mentor, and campus activity assistant. As an RA I want to help residents make sure they are safe and feel welcome on campus.
Jade Vidas, Resident Assistant
Hi, my name is Jade Vidas. I am an international student from South Africa. This is my second semester at JCC and I am majoring in Business Administration. I am a resident assistant this semester in Hillside Suites North. I worked as a member of the student senate last semester while I was on the JCC swim team. I am excited for this semester and I am looking forward to meeting everyone.
Hillside Suites West
Xavier Churnac, Residence Director
My name is Xavier Churnac, and I am the residence director of Hillside Suites West. I have always enjoyed being a part of residence life. As an alumnus to JCC, I feel I'm in the perfect position to share my success story, which enables me to do whatever it takes to help our students create their own success here.
Cassie Doubek, Resident Assistant
Hi! My name is Cassondra Doubek, but I go by Cassie. I'm from Randolph, New York, so I'm pretty familiar with the Jamestown area. I'm a sophomore, and I'm studying history. I am also a part of several clubs and organizations around campus, including Student Senate. My goal as an RA is to build a community and help support my fellow students. I hope to accomplish this through events and getting to know my residents.
Matthew Fennell, Resident Assistant
Hi all, my name is Matthew Fennell. I am an international student from Johannesburg, South Africa. I am currently a freshman with a major in Business Administration. I am on the swimming and golf teams here at JCC. Before I left South Africa I worked numerous jobs, including brand ambassador, waiter, and swimming coach, and I have built a great knowledge of communication. When I first came to JCC I found it somewhat hard to be so far from home; therefore, as a resident assistant, I would love to help other students and make them feel at home here at JCC.
Ben Peterson, Resident Assistant
My name is Ben Peterson, and I am an RA here at JCC. I am an Information Technology major looking to get into a career in cybersecurity. I grew up homeschooled on a farm near Bemus Point, NY. I hope that I can help residents with any issues that they may have here on campus, and keep them absorbed in the many on- and off-campus activities available.