Study information technology at JCC
The certificate in Information Technology from Jamestown Community College prepares you for careers in IT support such as help desk assistance, information processing support, and computer sales.
JCC's program builds strong computer user skills and an understanding of fundamental IT concepts. You can also use the Information Technology certificate to begin training for CompTIA's A+ and 3Network+ certifications.
JCC's Information Technology certificate received the 2021 Best IT Certifications Online award from Best Value Schools.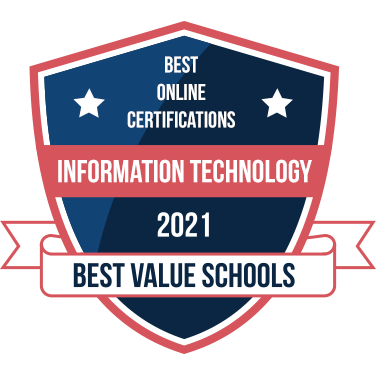 2022 median pay for computer and information technology occupations: $100,530/year according to the U.S. Bureau of Labor Statistics
Where to study at JCC
Information technology skills
After you complete the program, you will be able to:
Understand the basic syntax of a programming language so that they will be able to use that language to solve a programming problem.
Understand basic concepts of Local Area Networks.
Solve a basic business problem using an office software package.
Courses
Semester 1
Course
Credits
Requirements Met
CSC 1570: Programming Concepts and Applications
3
CSC 1580: Computer Hardware & System Software
3
ENG 1510: English Composition I
3
Mathematics Elective
Recommended:
MAT 1500: Problem Solving with Mathematics (or higher)
3
CSC 1520: Intro to Cybersecurity
3
Semester 2
Course
Credits
Requirements Met
CSC 1530: Introduction to HTML & CSS
3
CSC 2510: Introduction to Networks
3
Social Sciences Elective
Choose a course from the social sciences category
3
Program Core Elective
Choose from BUS 1500 or a CSC course not already required within the program core requirements, except CSC 1510
3