Become certified in addictions counseling
At Jamestown Community College, you can make a difference in the lives of individuals suffering from addiction and substance abuse with a certificate in Addictions Counseling and CASAC-TR credentialing.
This certificate is for students studying healthcare, psychology, human services, or a related field, and want additional credentialing in addictions services. At JCC, you will develop knowledge of the nature and history of addiction and chemical dependency, and learn skills needed for intake assessment, treatment, case management, and counseling.
The certificate satisfies New York's 350-hour educational requirement for the CASAC-TR status required through the New York State Office of Alcoholism and Substance Abuse Services (OASAS).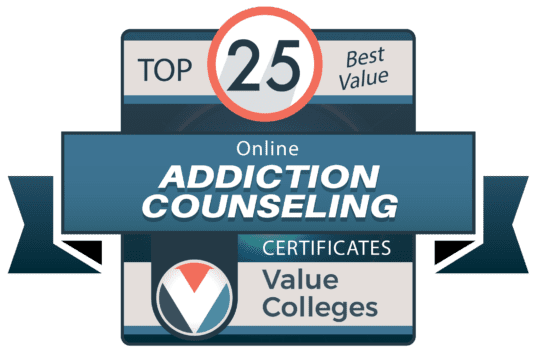 JCC's Addictions Counseling certificate has been named to the Top 25 Best Online Certificates in Addiction Counseling list for 2021.
2021 median pay for substance abuse, behavioral disorder, and mental health counselors: $48,520/year according to the U.S. Bureau of Labor Statistics
Where to study at JCC
Addictions counseling skills
After you complete the program, you will be able to:
Learn about substance abuse, including the physical and pharmacological effects of substances, diagnostic criteria for substance use disorders, diverse intervention and treatment approaches, health, wellness and communicable diseases, and the use of toxicology testing and screening devices.
Develop counseling skills pertaining to addictions, including individual, group and family approaches, while developing cultural competence and knowledge of special populations.
Demonstrate understanding of theories of human development and their relationship to substance abuse, and the impact of substance use on families and community.
Demonstrate skills in assessment, clinical evaluation, record keeping, treatment planning, case management, and patient, family, and community education.  
Develop competence in maintaining professional and ethical responsibilities, including counselor-client relationships, ethical decision making and conduct, confidentiality and legal issues, and counselor wellness.
Courses
Semester 1
Course
Credits
Requirements Met
HUS 1280: Introduction to Family Systems
3
HUS 1310: Studies in Alcohol Chemical Dependency
3
HUS 1410: Generalist Practice Skills
3
HUS 2230: Interview and Counseling
3
PSY 1510: General Psychology
3
Prior to advisement, apply for field placement and schedule a field orientation session.
Semester 2
Course
Credits
Requirements Met
HUS 2215: Field Placement I: Addictions
5
HUS 2400: Ethics/Issues in Addiction Services
3
HUS 2430: Alcohol/Chemical Dependency Treatments
3
PSY 2540: Interpersonal Group Dynamics
3
PSY 2560: Abnormal Behavior
3
Download application information for the CASAC-TR license from the OASAS website.
After advisement, apply for graduation.