Almost everyday for the last 50 years, Jeanne Johnston has had something important on her schedule.
She married at 18. Had three children by 26. Earned three college degrees while raising the kids and working full time.
She has also taught college-level courses at SUNY Jamestown Community College and Olean Business Institute since the middle of the Reagan administration.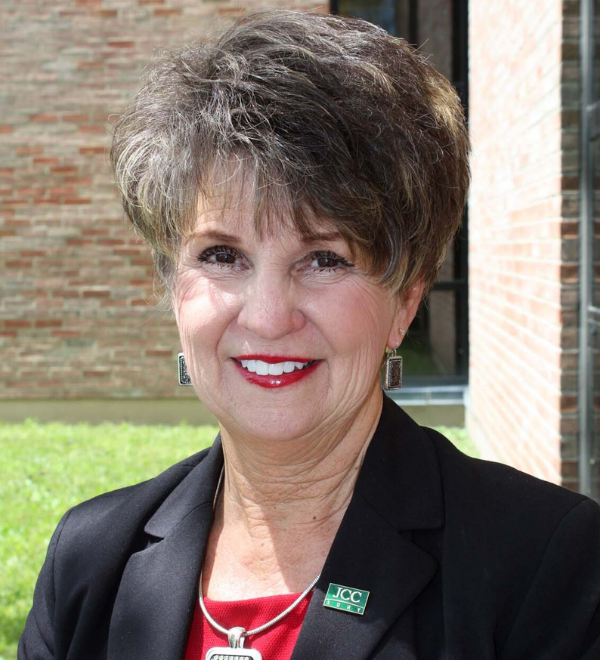 In her words: "It's time to come up for air."
Johnston is retiring from her full-time teaching duties at JCC this summer. She was a stalwart at the college's Cattaraugus County Campus for the last 20 years — serving as an assistant professor and director of the health information technology and administrative professional programs — as well as stints as JCC's dean of business and social sciences, and interim dean of the college's campus in Oleanand Workforce Readiness.
Before that, she spent 16 years as an health information technology instructor at Olean Business Institute.
"For 36 years, I've prepared students for careers in health information technology," Johnston said. "Everywhere I go – Olean General, Olean Medical Group, Walmart – they're there. They are working. This ages me, but I've had the grandma, the mom, and the granddaughter."
For a woman who was initially resistant to moving across North Union Street from OBI, Johnston made a lasting impact at JCC. From scratch, she built the health information technology program for the college and earned the prestigious State University of New York's Chancellor's Award for Excellence in Teaching.
"I've been very blessed," she said. "I loved Olean Business Institute. I was asked to consider the position at JCC, and I was pretty reluctant. OBI was a tiny little college, very close knit. That 'big college across the street' was pretty intimidating. But I did interview reluctantly, and did get offered the job, and did reluctantly accept it. It was the best thing I could have ever done. I was blessed. It's been an amazing place to work."
Paula Snyder, executive director of the Cattaraugus County Campus and former college health services director said Johnston "represented the gold standard of professionalism in her field."
"She will be long remembered and missed for the wonderful leadership and guidance she provided to students and colleagues at JCC," Snyder added. "Her genuine concern for the hundreds of students whose lives she touched was always apparent in her time spent with us. As the former director of college health services, I will always think of her as a faculty member who lived and practiced the phrase 'student centered,' and for all the lives she touched through her teaching at JCC."
Johnston is most proud of preparing students — many of them first generation college graduates who lacked confidence — for "careers versus jobs."
Teaching, after all, is all Johnston ever wanted to do.
"Ask my brother, who is seven years younger than me," she said. "He would reluctantly get pulled into our little classroom I made in the basement, and he would be my pupil. My brother could multiply three digit numbers by three digit numbers by the time he went to kindergarten."
But, due to life's circumstances, it wasn't until the middle of her career that Johnston followed her passion.
"I got married young," she said. "My husband was in the military. I cancelled my college plans. I had to put that aside. I got busy with life and kids, but I always had that desire."
While raising her children, Johnston earned an associate's degree in medical records management and was employed in that field for more than a decade when a chance to teach part time at OBI was offered.
"I interviewed, got that job, and the rest is history," she said. "The second semester they asked me to come on full time. I loved it. I never looked back. I went on to finish my degree in adult education. I got my dream to be a teacher."
Johnston plans to stay on at JCC as an adjunct professor, leading a few online classes each semester. She likes the idea of gradually moving away from teaching.
In the meantime, she plans to spend a lot more time with her seven grandchildren, three of whom live across the road in Allegany, where the Johnstons built a home three years ago.
There will also be more time to travel and, of course, more time for herself.
 "I have been working for 50 years," she said. "It goes without saying that it's time to move onto that next chapter."