Like many students, Aimee Zynda approached the end of her high school career at Gowanda Central School unsure of what she wanted to do beyond graduation. 
Equipped with credits from SUNY Jamestown Community College's College Connections program, she decided to take advantage of the college's Unified Student Assistance (USA) scholarship, which covers four tuition-free semesters at JCC and is awarded to local students who finish in the top 20% of their graduating class.
What seemed like a simple decision at the time turned into one with life-changing effects.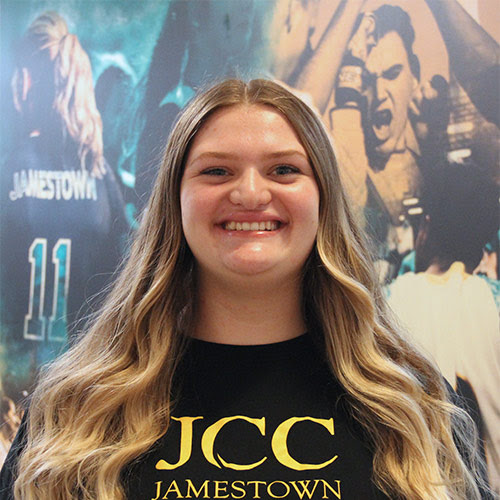 "Being able to attend college tuition-free was extremely beneficial to me because at that point in my life, I really had no special interest regarding college and higher education," said Zynda, a Collins native. 
Zynda graduated from JCC in May with her associate's degree in business administration and will move to the University at Buffalo to study political science with the intention to go to law school. Her time at JCC will allow her to finish her undergraduate degree a year early.
"JCC allowed me to explore different career paths by talking to faculty and staff to learn about internship opportunities and ultimately allowed me to find what interested me," she said.
Zynda's story is not a rarity: over the last seven decades, Jamestown Community College has established a track record of unlocking dreams and allowing students to realize their potential. 
The only difference lately is that it's occurred amid a global pandemic. 
"Our faculty and staff did tremendous work in adapting to the challenges COVID-19 presented us," said JCC president Daniel DeMarte. "When I hear stories like Aimee's, I remain incredibly encouraged by the work that we did in providing worthwhile opportunities for our students throughout these difficult times and the work that will continue beyond them." 
Like other institutions of higher education, JCC adapted its delivery on a dime, transitioning its courses to an online format before returning to a hybrid method of instruction in the fall of 2020. The college announced in April that it would be returning to full in-person operations in the fall of 2021. 
"JCC has been a leader in distance education for two decades, which helped our students immeasurably when we needed to move instruction to remote and hybrid class delivery modes last spring," said Kirk Young, vice president of student affairs.
Through nationwide surges in cases in the fall and winter, the college continued to keep COVID-19 infection rates low thereafter, allowing operations to continue in a safe manner. 
And while protocols limited the traditional student experience, JCC students like Zynda continued to excel in the classroom, onstage, and on the athletic fields — safely. 
Some highlights:
Turkmenistan native Bagul Mammedova became JCC's first Phi Theta Kappa student in nearly 30 years to be named to the All-USA Academic Team.

Ginna Hensel and Ekaterina Grigoreva presented at the State University of New York's Undergraduate Research Conference virtually in April 2021. 

The college's music department presented two live-streamed concert performances while the JCC Uncommoners theatre troupe presented a virtual production of "The Edgar Allan Poe Afterlife Radio Show" in May. 

Karianne Yuchnitz swam to a national title in the 50-yard freestyle at the National Junior College Athletic Association's Swimming & Diving Championships in Fort Pierce, Fla. 

Emma Redlecki and Jackson Vanstrom made history as the first two members of the college's cross-country team based on the Cattaraugus County Campus. 
"Our students are incredible," noted DeMarte. "To see them rise to the occasion like they did is so heartwarming given the challenges they faced and emphasizes the value of what starting at a community college can look like." 
At a time when student loan debt is rising across the country, nearly two-thirds of associate degree graduates from community colleges in the State University of New York system have zero student loan debt. To help students even further, JCC announced in January that it would not increase tuition for the 2021-22 school year. 
"That means they leave our campuses with no student debt, but have an accredited SUNY degree and a pathway to an in-demand job or guaranteed transfer to a bachelor's degree at another SUNY institution," said DeMarte. "Simply put, especially during these times, community college is a smart and affordable way to earn a college degree, no matter how far you go." 
Zynda is living proof of that. 
"Being able to explore options and my passions at JCC changed the course of my higher education pathway," she said. "There is no doubt that community college helped me get to where I am today." 
Learn more about how JCC can support your journey this fall.