SUNY Jamestown Community College and UPMC Chautauqua signed an agreement today that establishes a new paramedicine program in the region.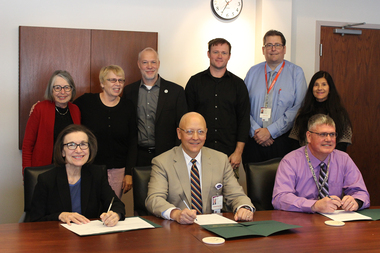 The partnership provides students the opportunity to earn 30 credits each from JCC and the UPMC Regional Paramedic program. Students who complete the JCC-UPMC program will be eligible to take the test for New York State or National Registry Paramedic certification and will earn an Associate in Applied Science in Individual Studies from JCC.
"A paramedic is the highest level provider of medical care in the emergency response field," said Ellen Lehning, professor and advisor for the JCC-UPMC Paramedic Agreement. "This program will teach students how to assess emergency situations quickly and respond effectively."
JCC courses can be completed on the Jamestown Campus, a combination of the Jamestown Campus and online, or a combination of the Jamestown Campus, Cattaraugus County Campus, and online. Students who already have a paramedic certification can continue their education and earn an associate's degree in individual studies. Those with an EMT certification can earn their associate's degree and paramedic certification.
UPMC training can be completed in Jamestown, Olean, or Belmont.
"The UPMC training is completed in 15 consecutive months," said Brian Wilcox, UPMC program director. "The only prerequisite for the paramedic training is to complete the EMT training and certification at JCC."
Students can get started in the program by applying to JCC's Individual Studies A.A.S. degree.
Visit sunyjcc.edu/programs/partnerships/paramedic-upmc for more information.