OLEAN, N.Y. –  SUNY Jamestown Community College officially opened its Cattaraugus County Campus eSports stadium with a ribbon-cutting ceremony on Dec. 2.
"This is exciting for us for a lot of reasons, one of which is we have begun implementing a plan to reintroduce athletics in Cattaraugus County," said Daniel DeMarte, JCC president. "We know how important it is that students come here and have an opportunity to get involved in activities outside of the classroom."
Paula Snyder, campus executive director, thanked those in attendance, including Olean mayor Bill Aiello, Howard VanRensselaer and Frank Higgins of the Cattaraugus County legislature, and Olean YMCA CEO Jeff Townsend.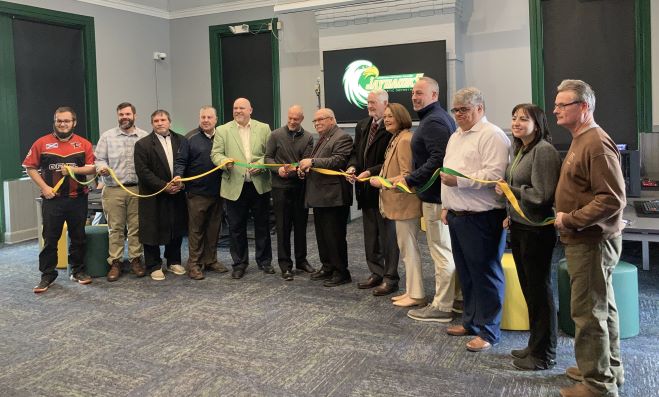 Aiello congratulated the college, saying: "This is really exciting for our community."
JCC's home for eSports is the Dresser Rand Training & Conference Center. The former train depot and base for the college's Workforce Development operations has been transformed into a high-tech eSports gaming facility. It includes an area for competitions with mezzanine spectator seating, a team meeting, and practice room, coaches office, and a space for console games and concessions.  
The building received new paint, carpeting, LED lighting, and electrical and Wi-Fi upgrades to handle the computer load that eSports gaming requires. In addition to two dozen high-end gaming computers and chairs, the facility features modern furniture.
JCC partnered with Esport Supply, the official technology partner of the National Association of Collegiate Esports, to equip the building for competitive gaming.
"This is one of the premier facilities in the United States for eSports," said George Sisson, JCC's director of athletics and recreation. "Our goal and our ambition, and our directive from our president was to build this thing so we can grow our program and our Cattaraugus County Campus."
The college recently hired a coach, Chris Swanson, to lead the National Junior College Athletic Association-sanctioned program. The team has scrimmaged against other colleges, and Sisson said JCC is expected to begin official competition in January.
The NJCAA has 213 colleges competing in eSports, according to the association's online member directory. Many members have established teams in the last two years.
"We knew three years ago when we began looking at eSports that it was the most popular and growing sport in college sports," DeMarte said. "What we've since learned is that it also is the fastest growing and most popular high school sport."
DeMarte and Sisson added that the facility will serve as a host site for regional high school tournaments and other competitions.
The Jayhawks will start by playing the "Overwatch 2" game. Competitions can be viewed on Twitch, a popular live-streaming platform for gamers.
JCC also offers eSports club opportunities for students to compete against each other and other college clubs. The college is also exploring adding an eSports management degree program to its academic offerings.