"You gain strength, courage, and confidence by every experience in which you really stop to look fear in the face… You must do the thing you think you cannot do." ~ Eleanor Roosevelt
A recent graduate of SUNY Jamestown Community College, Shanna Cox fully embraced the idea behind this quote the day she decided to embark on her college journey. A young, single mother, Cox was inspired to enroll at JCC after her best friend, Mason Vanderwork, who was serving in the Marines, died in a mortar training accident in Nevada.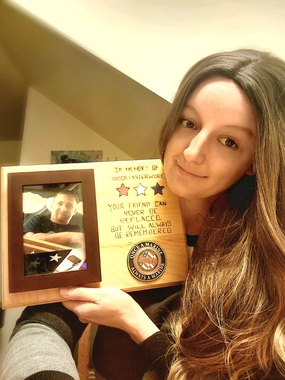 "Since Mason's passing, I've lived by 'he died for us, we can live for him,'" Cox shared. "He inspired me to chase after what scared me because what scared me was good for me."
Cox's priorities shifted when she welcomed her son William to the world. Her focus at that time was making a stable life for herself and her baby. She earned her GED, and then applied for college in the fall of 2013.
"I didn't want my son to grow up struggling like I did," Cox recalled. "William and I were learning together."
At that time, the unexpected loss of her friend was fresh. Cox hadn't realized Vanderwork was training for frontline combat. This knowledge, combined with the memory of his determination, and her sympathy for the family Vanderwork left behind, helped fuel Cox forward in her studies.
"He felt the military was a challenging opportunity and he wanted to dive right in once he made up his mind," Cox said. "He embraced fear and it motivated him to work hard."
JCC proved to be an avenue for expanding her network, as well as advancing her education. Cox made friends, and benefited from encouraging instructors and her achievement coach, Alex Sanders.
"I've met so many different people throughout my semesters at JCC," Cox said. "This was the first time I experienced doing something good for myself, and also went through a time of mourning. Eventually, I accepted that I had to withdraw from school and give myself time to process Mason's passing."
Cox eventually was ready to resume her college journey. She returned to JCC in August 2019, and earned her associate's degree in May 2022. In reflecting on her JCC experience, Cox credits her instructors with seeing all she was managing, and motivating her to stay on course.
"Amber Kautzman was my math teacher and she was always telling me that she saw how hard I was trying and she appreciated my efforts," Cox shared. "I also learned a lot from Catherine Iannello. There's that saying that people will forget what you did for them, but they'll always remember how you made them feel – Catherine was that to me."
Kautzman, now interim dean of Science, Technology, Engineering, and Mathematics, remembered Cox fondly. Though it's been a while since Cox sat in Kautzman's class, she clearly recalled Cox's work ethic and positive perspective.
"She looked at every experience as an opportunity for learning and growth," Kautzman said. "Any time I have seen or talked to her in the years since, she has always had the same positive attitude and has remained focused on where she's going."
Iannello, director and Human Services professor, witnessed Cox's college journey from the beginning, and spoke of Cox with enthusiasm equal to Kautzman's. She added that Cox's willingness to share her experiences as a single parent helped other students better understand programs and services being discussed in class.
"When she completed her field work in the program, the passion for the kids she worked with and the empathy and compassion for parents, and the challenges our community faces were remarkable," Iannello said. "Like so many of our adult students, I am always amazed at their work ethic and personal strength as they navigate so many competing responsibilities, while never allowing their education to take a back seat. They are such a benefit to the college classroom, and every student who learns beside them."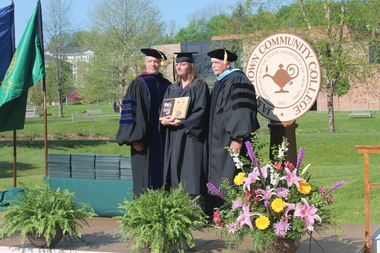 Out of college, Cox was immediately employed by Children and Youth Services in Warren, Pennsylvania. She has since transitioned to a customer service role with Knipper Health. She has enjoyed both experiences, and is excited to be part of a growing company that offers needed flexibility.

"I felt so accomplished after commencement that every day feels like I am still in celebration," Cox rejoiced. "I will never forget that day."
At commencement, she carried a plaque that was made in honor of Vanderwork. As though her nine-year educational pursuit could be summarized in her two minutes on the commencement platform, Cox struggled for a moment to balance the plaque with accepting her new degree. Through tears, and this time with a little help from JCC's president, she once again managed it all.
Cox's graduation was a victory not only for herself, but her son.
"He's seen a mom who did not give up, even when she was failing," Cox said upon reflection. "He's always inspired me to do better."
The inspiration between mother and son appears to be reciprocal. Now 15 and a sophomore in high school, William shows interest in mechanics, welding, and engineering. According to Cox, he has a strong work ethic, and following in his mom's footsteps by attending JCC is something he often speaks of.

Learn how JCC can be a part of your journey at the upcoming open house event planned for 10 a.m.-noon Nov. 5 on the Cattaraugus County Campus. Visit sunyjcc.edu/openhouse for more information.