OLEAN, N.Y. – New to the United States Army, Martin McCall was stationed in a demilitarized zone on the North Korean and South Korean border. He was 19 years old and stressed.
The general came in during McCall's first briefing and expressed fear that the platoon would be under attack soon.
McCall made it through that day and for the next 21 years of his active duty career, retiring as a sergeant first class following a stint as station commander and recruiter in Olean.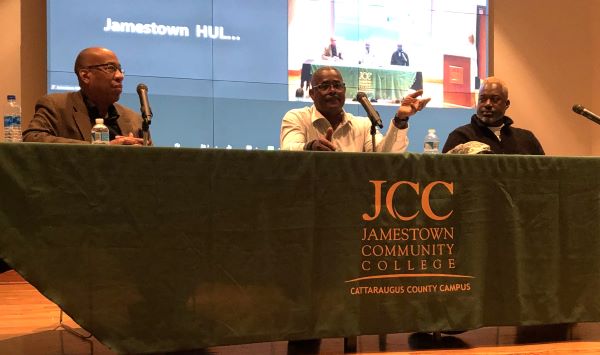 "You're looking at the luckiest guy on the face of the earth," he said during a panel discussion titled "My Service Experience: A Sharing from Three Local Veterans in Honor of Veteran's Day" held Thursday in Cutco Theater on SUNY Jamestown Community College's Cattaraugus County Campus.
"I came in at the end of the Vietnam era," McCall added. "Didn't have to fight. No Somalia. No Panama. No Iraq. Right place at the right time. Then they sent me to some god-forsaken place called Olean, New York."
McCall, along with fellow retired military members, Arthur Austin, a brigadier general in the U.S. Army, and Matt Milliner, a corporal in the U.S. Marine Corps, participated in the discussion sponsored by Olean's African American Center for Cultural Development.
McCall came to Olean in 1989. After retiring from the service in 1997, he worked for Time Warner Cable/Spectrum in sales and marketing until 2019.
What has kept him here is the people he's met.
"I've been around the world a couple few times," he said. "Done a lot of things. But I like this area."
Austin moved to Cuba with his wife after a decorated service career of nearly 40 years that culminated in the rank of general.
Milliner, a native of Hornell who specialized in aviation for the marines, now owns and operates a barber shop in Bradford.
Austin was drawn to the military by his father, who served during the Korean War era and by a family friend who introduced him to the Michigan guard during his teenage years growing up in Detroit.
He was inspired by men who fought in World War II and by his father, who neighbors looked to for help, during the 1967 race riots in Detroit.
"I was enamored with the respect that these individuals got," Austin said.
"I had a plan," he added. "I knew I was going to be a military policeman. I knew there was an opportunity to grow in that entity in the Detroit area. We had a military police group at that time because it was necessary because of the riots."
Austin started off with ROTC at Michigan State University and was promoted to various positions in operations and intel at the battalion and brigade levels.
He served so long because he enjoyed it. The experience gave him the "ability to figure out problems" and "understand the world."
He took the persistence and resilience he gained from service to further his education, earning bachelor's and master's degrees, along with a Master of Strategic Studies from the Army War College.
These days, Austin is dedicated to helping service members transition into everyday life. He supports area veterans and would like to work with JCC students who were in the military.
"Making the transition to the civilian world, I say it often," Austin said. "What's your mission? What's your intent? What's your vision? Those are things we live by in the military."
McCall, meanwhile, had an uncle who motivated him to serve. Growing up in Spotsylvania, Virginia on a dirt road with no running water and an outhouse, "the military opened his eyes to the world and kept his interest."
Not wanting to engage in hand-to-hand combat, McCall started as a radio teletype operator – though that duty was often done in battle areas on helicopters and in armored tanks. 
"It was a lot of stress at a young age," he said. "You start off as a private. Before you know it you're a platoon sergeant. Then, you've got people you are responsible for."
McCall served in the 101st Airborne Division in Fort Campbell, Kentucky, the 2nd Infantry Division in South Korea, and the 3rd Armored Division in Germany.
He said his military experience made him a great employee in civilian life.
"You have to know how to work with people," McCall said. "I knew what the mission of Time Warner and Spectrum was. If you don't understand the mission of the company you work for, you're not going to last."
Milliner was working at Fay's Drug store and Ried's Food Barn in Olean when his brother, home on recruiter assistance, encouraged him to take the Armed Services Vocational Aptitude Battery test, for which he scored well.
Milliner's brother "asked me if I wanted to be an accountant," he said. "I said I didn't think I wanted to be an accountant in the Marine Corps. I didn't want to push a pencil or anything like that. But the other side was aviation."
Starting off in laws and records, Milliner was stationed in Okinawa, Japan and Quantico, Virginia, where he was part of Marine Helicopter Squadron One, HMX-1.
He recalled sand fleas nipping at his body and drill instructors making life miserable during boot camp and aviation school.
"We had to run every morning and do sit-ups and push-ups," Milliner said. "You'd think you'd leave that alone after boot camp, but we did it every day. It wasn't fun, but it builds that character."
Milliner misses the camaraderie and family atmosphere of the military. Since his retirement in 2000, thanks in part to his service experience, he has built a successful barber business.
"In the military we have that discipline where you have a dogged attitude," he said. "You can't take 'no' or failure as an answer. You keep climbing and grinding until mission accomplished."
In addition to the veterans panel discussion, the Cattaraugus County Campus is hosting Steve Appleby, curator of the World War II Museum in Eldred for a presentation on Monday in the Library & Liberal Arts Center Learning Commons classroom.
JCC's Jamestown Campus will host a Stand Down to support veterans from 10 a.m. to 3 p.m. Nov. 17. The one-day event in the Hamilton Collegiate Center Student Union features a free lunch paired with a gathering of service providers and vendors offering resources, surplus, food, and other giveaways to western New York veterans who attend.
JCC has been repeatedly named a "Military Friendly School" by Victory Media due to the college's commitment to serving military and veteran students. Visit sunyjcc.edu/military for more information.