Neil Flory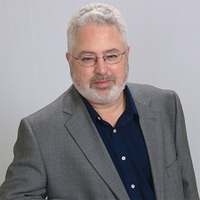 Department

Music

Primary campus

Jamestown

Location

SHEL 140

Phone

716.338.1168
Associate Professor
I'm coordinator of Music and associate professor here at Jamestown Community College; I oversee the music program and teach music theory, aural skills, songwriting, piano, music appreciation, an inquiry course in music, and other subjects. I'm also an active composer, improvising pianist, and poet.
I've composed a wide variety of musical compositions both in the acoustic and electro-acoustic mediums. My music has been performed live all across the United States, and also in South America, Europe, Asia, and Australia, including many performances at major conferences both in the U.S. and abroad. My music appears on recordings from the Mark, Summit, and Emeritus labels, and is currently published by Potenza Music, Murphy Music Press, and Cimarron Music Press. Over the years I've fulfilled a variety of commissions from many individuals, ensembles, and organizations, including saxophonist Andy Wen, the Oneota Chamber Players, the Strung Out Trio, trumpeter Mary Thornton, the Little Rock Wind Symphony, the Iowa Music Teachers' Association, and the University of Central Arkansas Foundation. My wife, Elaine Flory, is a published writer of fiction and poetry who holds MFA degrees in creative writing from Goddard College and the University of Southern Maine. We have collaborated on numerous creative projects, most notably The New People, a full-length cantata for the Del Mar College Choirs and Concert Band, commissioned by the Del Mar College Foundation in honor of the 75th Anniversary of Del Mar College. My interests in composition and performance come together in my activities as an improvising pianist. For many years, I've presented improvisational works in live recital settings, both as a soloist and as a member of various ensembles. My wife and I have also collaborated on a number of pieces of this kind, with her reading her fiction and poetry while I provide music on the spot.
I've been writing poetry for decades. My book mudtrombones knotted in the spill was published by Arteidolia Press in 2023. Over the years my poetry has also appeared in a variety of literary journals, including Fleas on the Dog, Superpresent, Sleet, Down in the Dirt, shufPoetry, and others.
Prior to my work at JCC, I served as a member of the music faculties of Central Washington University, Del Mar College, and Luther College. I currently serve as Region 2 co-chair for the Society of Composers, Inc., of which I've been a member for more than 25 years.
Title: D.M.A. (Dr.)
Education:
D.M.A. Music Composition - University of Texas at Austin
M.M. Music Composition - University of Florida
B.M.E. Music Education - University of Central Florida
A.A. Music - Edison Community College
Academic Interests:
Composition
Improvisation
Contemporary music
Contemporary poetry
Music theory and aural skills
Music history and literature
Selected Publications:
mudtrombones knotted in the spill. Arteidolia Press, 2023. Book of poetry.
"Brass" and "The Thousand Crows" published in Winter 22/23 issue of Sleet. Poems.
"javelins" and "the new arrivals" published in December 2022 issue of Down in the Dirt. Poems.
Suite for Oboe and Trumpet. Determination: Music for Trumpet featuring Scott Hagarty. Mark Records, 2022. CD.
Sonata for Euphonium and Piano. Potenza Music, 2017. Sheet music.
Three Pieces for Saxophone Duo. Apparitions 2 featuring saxophonist Andy Wen. Emeritus Recordings, 2013. CD.
Entropy of Desire. Apparitions featuring saxophonist Andy Wen. Emeritus Recordings, 2011. CD.
Suite for Flute Quartet. Cimarron Music Press, 2007. Sheet music.
Venn Music I. Untaming the Fury featuring Duo 46. Summit Records, 2003. CD.
Courses teaching
Fall 2023
Spring 2024
Contact Neil Flory
All fields are required